The internet is full of threads and questions about cheap and reliable dosing computer. Specifically if you add trace elements to your tank, these are elementary if you don't want to dose trace elements manually each day.
During the holidays, I have redesigned my sump, removed my beloved calcium reactor due to the lack of space in my sump and now I'm back on Balling to supply trace elemets with the so called Balling method. I searched for a suitable dosing computer, which should have at least three channels.
The prices of "brand computers" with an integrated controller differ from 300 € (Aqua Medic Reefdoser), 325 € (GHL with control) and 389 € (Grotech TEC III) so I looked around for a cheaper alternative.
My choice was a rather unknown device named Marine Color, which met my requirements and costs only € 159 € . It is sold exclusively through a Berlin based shop.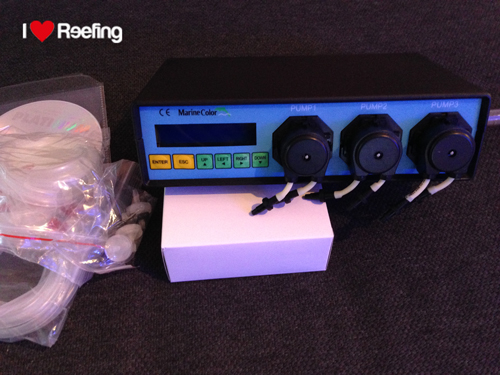 Technical data of the MARINECOLOR MCD-3-M
– The MCD-3-M master unit includes three dosing units which can be programmed seperatly.
– Accuracy: Better than + / – 3%
– Dimensions: 220x140x60 mm
– The adjustable flow rate of each pump head is 1-4999 ml
– The flow rate can be split to up to 24 doses per day and pump head.
– Optionally, the main unit with an expansion unit (MCD-3-S) operates 3 more pump heads, which are also controlled seperately via the main unit.
The computer gave me already at unboxing the impression, that it is very well made. The housing is tight, the buttons have a good tactile feedback. Included are instructions on CD, 6 silicone tubes, 3 return valves, power supply and measuring cylinder for calibration.
Set up:
Here we go: After connecting the power supply and the tubes, all pumps should first be calibrated. This is because the individual saturated liquid trace elements have a different viscosity and thus a different flow rate. Each pump therefore should be "calibrated" to the liquid. The setting is very simple, is well explained by the instructions and works exact with the measuring cylinder.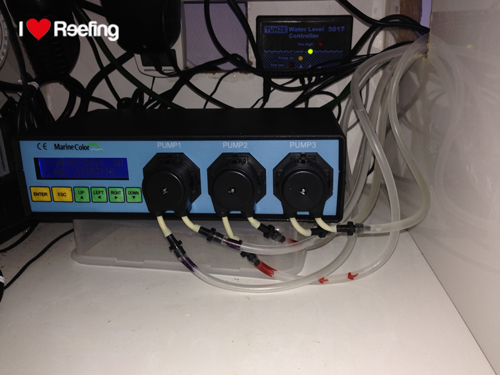 Then I enter the with the the AquaCalculator calculated addition amounts per day and per pump and determine how often it should dose per day. The dosing computer automatically calculates the dosing over the day based on the maximum amount. You can also program the timeframe of dosing during the day.
That's it! After less than one hour, the device is ready and doses reliable. Especially good is, that the computer displays the timing of the next dosing per pump. So you can always check if everything is working.

Conclusion:
The marinecolor dosing pump is a good alternative to the expensive equipment. The long-term experience in the forums are mostly well – whether the system can keep what it promises, time will show. So far I am thrilled.
I don't hear the pumps with the closed cabinet – even if, it would not matter to me since it anyway just runs a few seconds.