What should we write about a skimmer, which we don't longer hear after istalling and which little by little disappears from the perception?
Well, since now half a year, I have the new QUANTUM 160 skimmer of the german company NYOS operating in my sump. I started the tank years ago with the previous model, the NYOS Pyro True Cone 180 skimmer, with whom I was mostly satisfied.
First have a look at the promotional video of the manufacturer:
In fact the design of hardware which is located in the cabinet is actually secondary. Nevertheless the NYOS Quantum skimmer is extremely elegant designed. While the previous series was relabled of the company Skimz and was only distributed by NYOS in Europe, this brandnew model is completely developed by NYOS in Germany itself. The look & feel of the skimmer is amazing, the material is very massive. The so-called "Clear-View-Reactor" is not just a marketing argument. A brief explanation: The reactor chamber which includes the pump with the needle wheel is made of transparent plastic. This allows to watch the slice and bubbles directly in the skimmer and you can recognize contaminents immediately.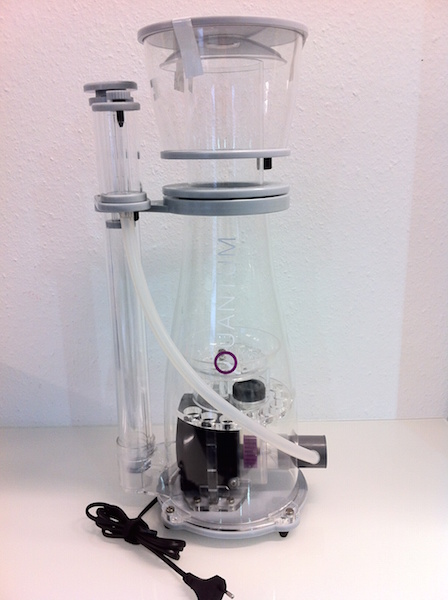 The setting of the skimmer for wet or dry skimming that I control via the water level in the skimmer is solved simply and excellent (it was very difficult with the previeous version because even the slightest movements of the wheel caused overfoaming ). Now you have to turn the wheel a few times to change the water level in the skimmer significant. This is really very good! The air is always fully open to keep the foam performance to maximum.
On the website NYOS promises four main features which I try to evaluate with my now 6 month experience:

Extreme Performance
Performance is of course always difficult to value. My foam is relatively dry, so I have to clean it after 3 days and it looks like this: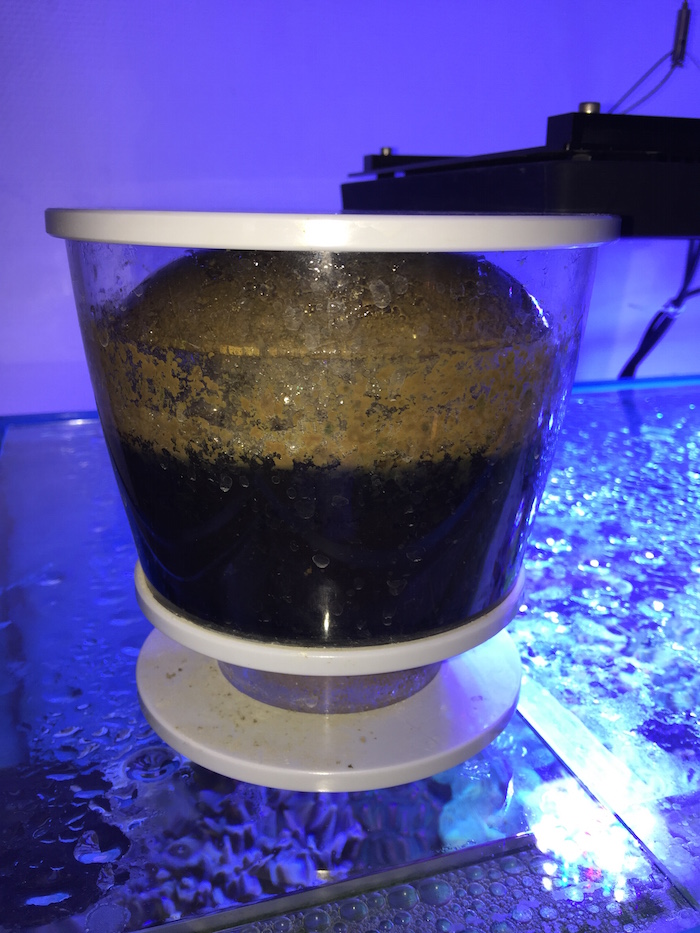 For me, this is a super power skimmer – my nitrate and phosphate values fell slightly after installation and are now consistently low.
Smooth running
The skimmer is super quiet. Quiet? …it is virtually inaudible. I now have relatively little experience with different skimmer, but I nearly do not hear it. Probably it is the combination of the new wheel (called "hybrid wheel" because it is a mixture of needle wheel and a lattice wheel – Both types are used in different type of skimmers), excellent "german" build quality and the full decoupling of the skimmer by silicone feet. Here NYOS gets 12 out of 10 points! Amazing!!!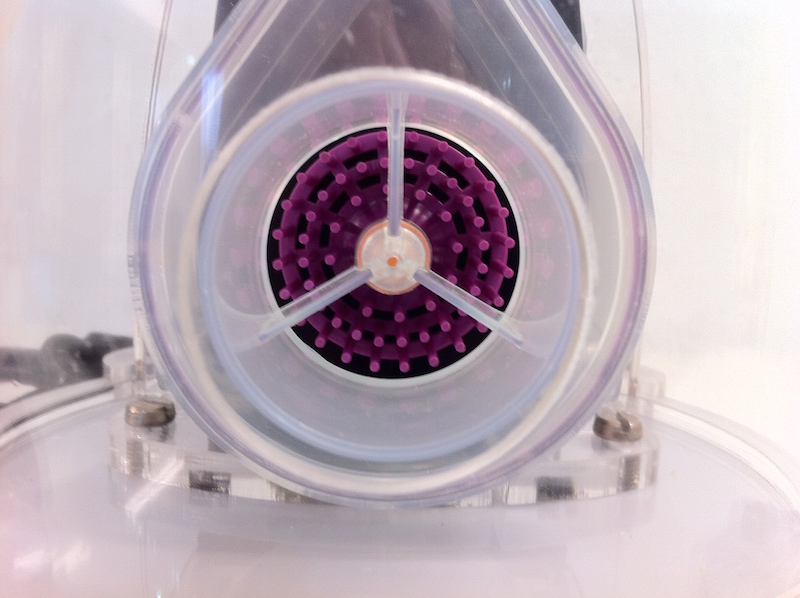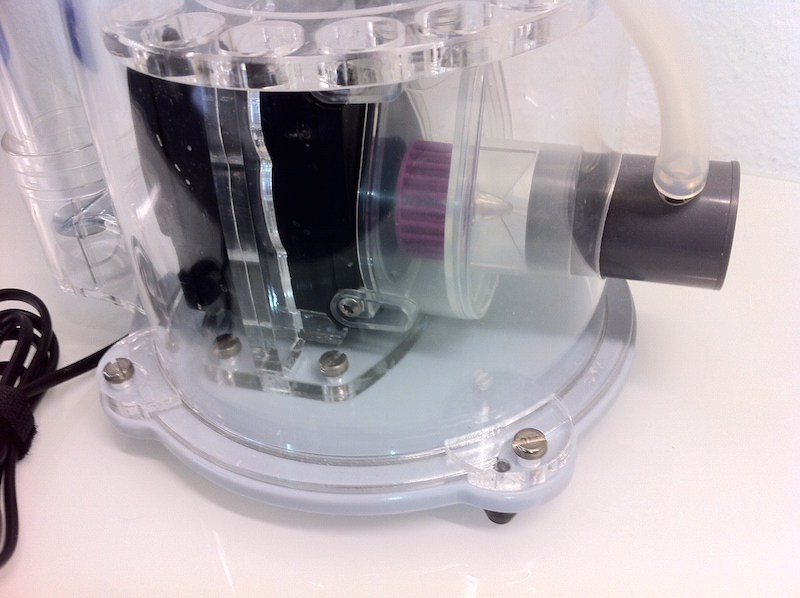 Low power consumption
Also, the power consumption of a skimmer is – especially with today's prices for energy – an important argument. Skimmers are finally running 24/7 … This Quantum 120 needs 8W, my 160 runs with 18W. Makes € 3.63 / month for a strong and inaudible skimming … Other devices in the same class, some much more expensive, need more power.
Ease of maintenance
The bayonet closure of the body closes relatively tight which requires a little bit practice to set up the foam cup. In general, you only need to open 4 Titanium screws to solve the skimmer in less than 2 minutes apart (and resolve).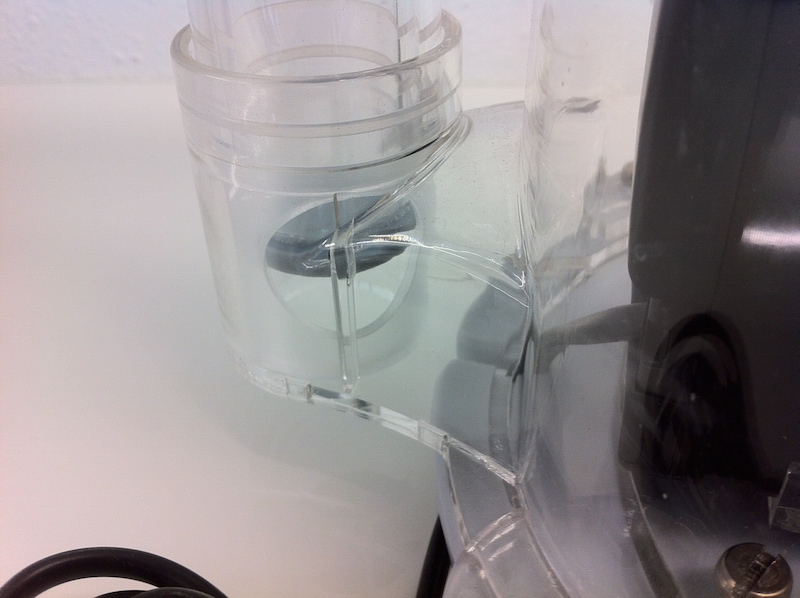 Conclusion
The new NYOS QUANTUM skimmer makes me and what I read in many boards very happy. Excellent quality, smooth running (!) and great performance! After six months of use, there was no degradation of performance.
The skimmer is priced in the higher medium price range:
(Prices of Mrutzek):
NYOS 120 (100l – 500l aquarium) 349 €
NYOS 160 (250l – 1.000 l aquarium) 449 €
NYOS 220 (500l – 2.000l Aquarium) 649 €
As rumors said, the NYOS skimmer will be exclusively distributed by by Ecotech Marine, what can also be seen as seal of quality – at least I do!
Here is the datasheet of my NYOS Quantum 160 (should work for most aquariums in the size 250l – approx 750l fit):
NYOS® Quantum® 160
Aquarium size 250-1000 liters
Pump Quantum® 3.0
Maximum airflow. 1500 l / h
Consumption 18 W
Dimensions 18.5 x 25 x 53 cm
NYOS ® QUANTUM ®: THE IMPRESSIVE OUTCOME
Four things are characteristic for the NYOS ® Quantum® skimmer:
1.: Extreme performance
Performance, performance and once again performance. NYOS® Quantum® is characterised by high skimming performance as a result of the large amount of air in combination with and optimum air-water mixture.
2.: Very smooth operation
Aquariums should be seen and not heard. That is NYOS® Quantum® is especially silent when running and therefore can hardly be heard.
3.: Low power consumption
NYOS® Quantum® is conceived to be especially energy efficient and uses a minimum of power, despite its huge performance.
4.: Easy to maintain
Consistently strong skimming and simple settings are a joy.
For this reason, NYOS® Quantum® is especially easy to maintain and provides the same consistent level of performance over a long period of time. Reliable pump starts are a matter of course.
NYOS® Quantum®: THE INNOVATIVE INPUT
These are the innovative features of the NYOS® Quantum® skimmer:
1. The new NYOS® Hybrid Wheel The heart of every skimmer is its propulsion. That is why we have developed a new high-performance drive for the Quantum®: the Hybrid Wheel. This especially precisely manufactured impeller, built with superlight materials, combines the advantages of a needle wheel and a lattice wheel. The Hybrid Wheel is characterised by its lattice-shaped base, on which numerous very narrow needles are mounted. This structure ensures that countless extremely fine micro air bubbles are generated. The greatly reduced weight and the high precision lead to lower maintenance and at the same time low energy consumption.
2. NYOS ® Clear-View Reactor – The hybrid wheel needs a pump chamber that is specially adapted to it. That is why we have developed the NYOS® Clear-View Reactor. The Clear-View Reactor is a transparent, performance-optimised large-volume reaction chamber in which the water-air mixture is generated. In combination with the hybrid wheel and the adapted venturi nozzle, it produces an extreme air performance with an optimum air-water ratio. Its transparency means that any foreign bodies can be identified easily. At the same time it is possible to see the huge performance of the pump in operation. Stylish and practical!
3. The NYOS® Twister – Extreme air performance and the finest bubbles are one thing. But in order to achieve optimum skimming, the bubbles that are generated must also remain in contact with the water for as long as possible. That is why, in addition to our normal bubble plate, we have developed the saw-blade shaped Twister. This gives the bubbles an additional spin and swirls them further in a vortex. This greatly increases the contact time of the air bubbles in the water column.
4. Combination of form and function: the Sinus design Water doesnt like corners. That is why we have developed a flow-optimised, protected double-S form. In this so-called Sinus design the air bubbles can rise without hindrance and completely free, ergonomically so to speak, without the formation of poor-flow zones at disruptive corners.
5. Precision and details A good idea must be implemented perfectly to the very last detail.
Each Quantum® is therefore characterised by the following:
1. Extremely non-breakable high-performance waves from zirconium dioxide (strength 1600 MPa Vickers hardness)
2. Nine sea-waterproof screws from pure titanium grade 2
3. Precise micro-adjustment screws to fine-tune the water level
4. Full decoupling by means of silicone feet
5. Skimming pot with twist-lock seal
6. Ready-to-use plug-and-play device
6. Optimised, variable setting options – Each aquarium is different. That is why NYOS® Quantum® can be adapted individually to all aquarium conditions: water quantity and air quantity can be set separately and independently of each other. An approximate setting of the water level is achieved by means of the water setting pipe, while the especially precise micro-adjustment screw, which is also included, allows an additional fine-tuning of the water level.
7. Compact construction yet can be dismantled completely -Â We represent compact, well thought-out solutions. NYOS® Quantum® deliberately does not use any externally mounted, bulky pumps. For us it is self-evident that the device must be able to be dismantled completely.