How to use a public holiday best? Of course – Interzoo 2014 was on the table. This world's largest fair takes place every 2 years in Nuremberg, where all companies that has anything to do with pets is represented.
Armed with our camera we headed to the fair – with high expectations – that we had since the first visit in 2012. In this article, we can not describe all innovations at detail but we hope to give you a good impression.
All pictures are directly "out of the camera"
Red Sea
The company Red Sea presented its complete plug & play product range. Since I started with reefing with a Red Sea Max 250, it was particularly interesting to see the development of their products over time. It turned out that Red Sea now introduced several well designed product lines and especially systems without a cover (no more temperature problem).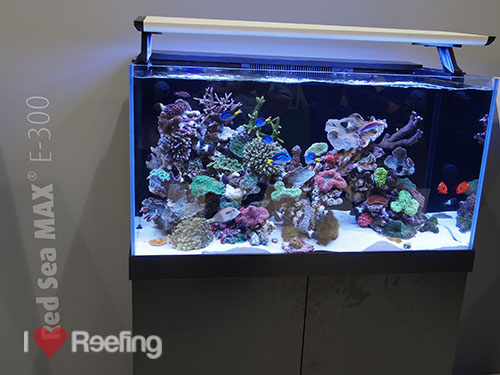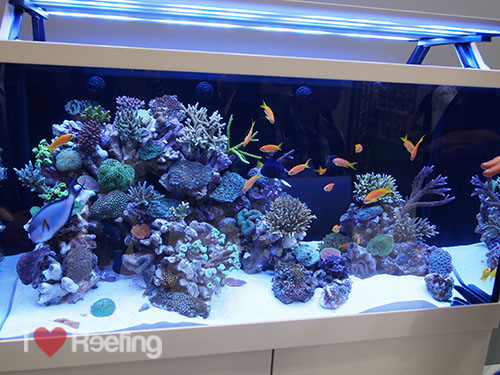 Nyos Aquatics
We were especially excited , regarding our friends friends Nyos from Stuttgart. As we use many of these products what we excited what "Swabian quality work" will be shown. One new product is the Nyos Quantum – one of the innovations on the booth – surprised by a great design won our internal Design Award of the Year 2014. Christian Kapaun also showed us the prototype of the announced pump control system for the skimmer Quantum that comes with LED lighting.. In addition, new on the market (to our knowledge) is the first fish food with an organic seal. The show tank of whitecorals.com was filled wtith truly exceptional coral, that the online shop is known for.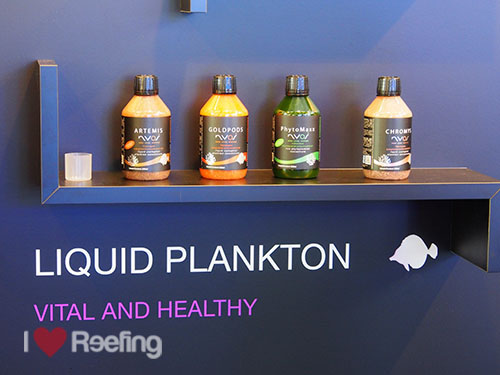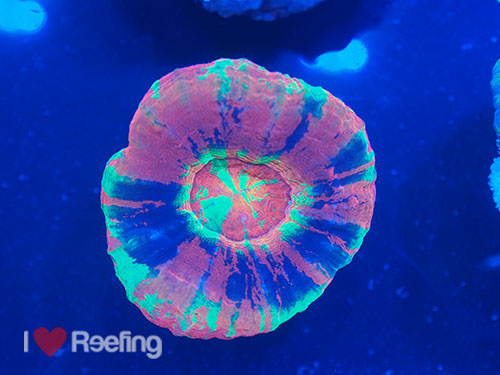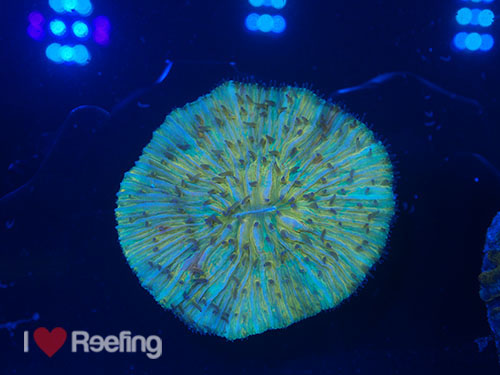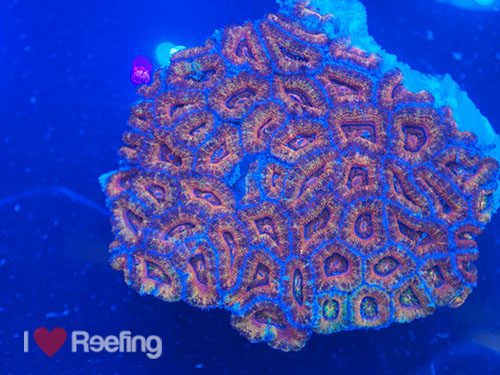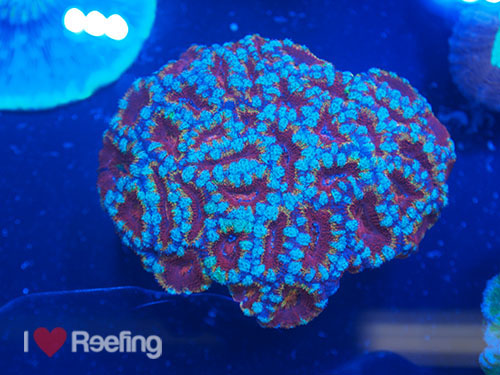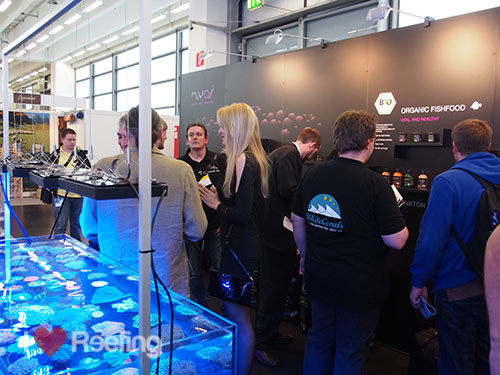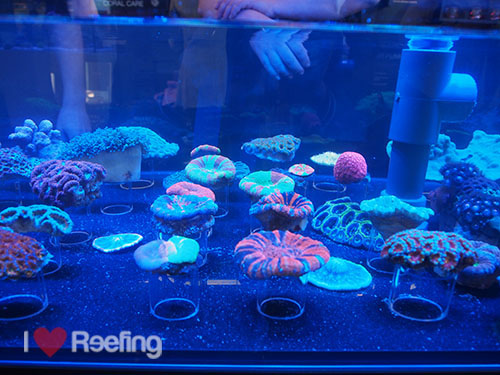 GHL
GHL showed a very comprehensive product range and is focused- as most manufacturers that have anything to do with light – on LED. Mitras and all other products are haptically great and deliver a real experience.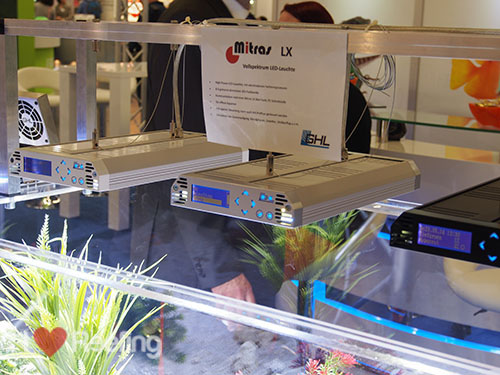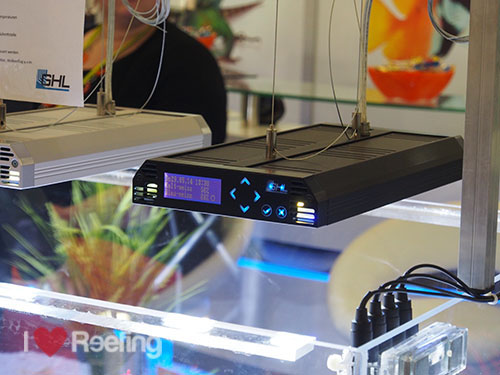 ATI
ATI showed a beautifully decorated aquarium, which was illuminated with their new planar LED. Unfortunately we were lacking time to go into a deeper conversation.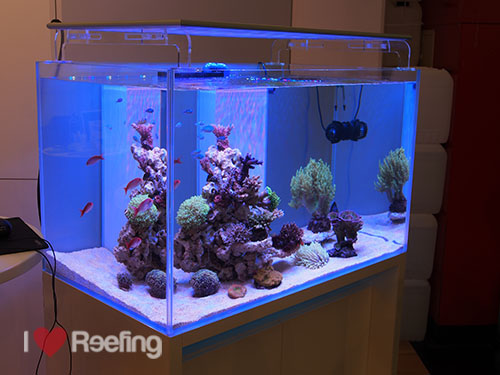 Dejong Marinelife
The highlight of each Interzoo is of course the booth of one of the largest importers of marine fish Dejong. Dejong's show tanks were an absolute highlight. Besides a great reef tank (crazy Acros, Azox , Zoas, fish …. madness!) some small basin with extremely rare major emperators cought our attention.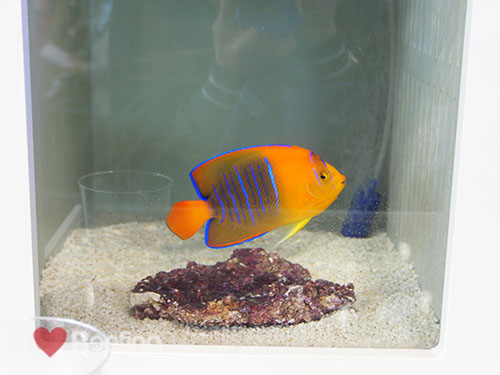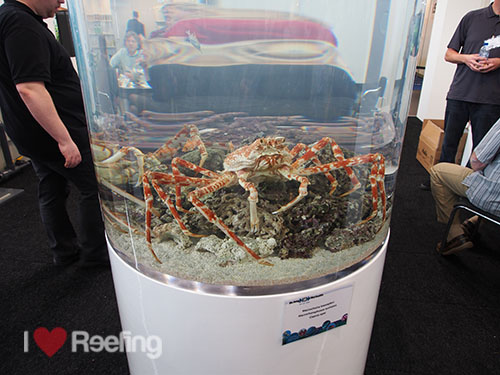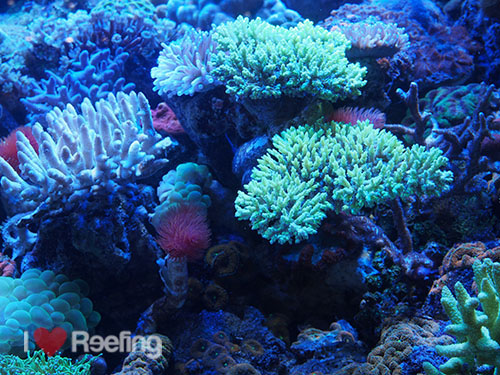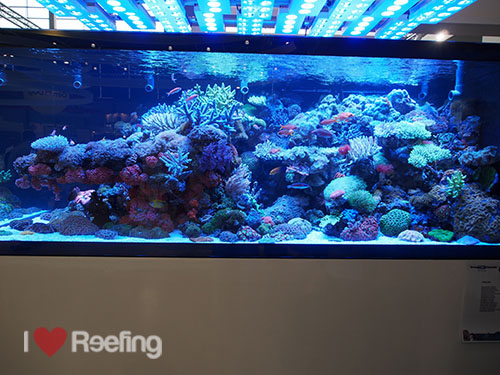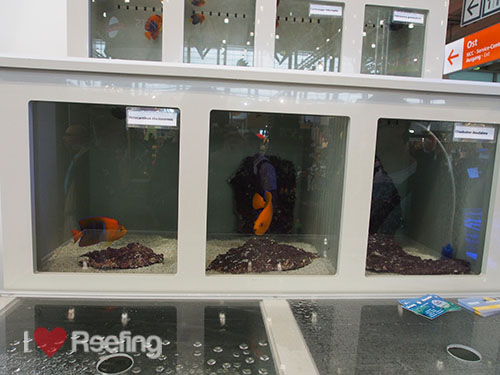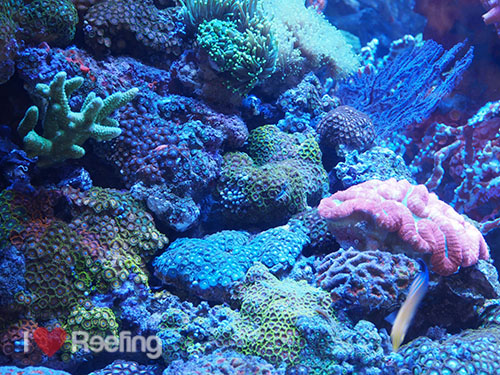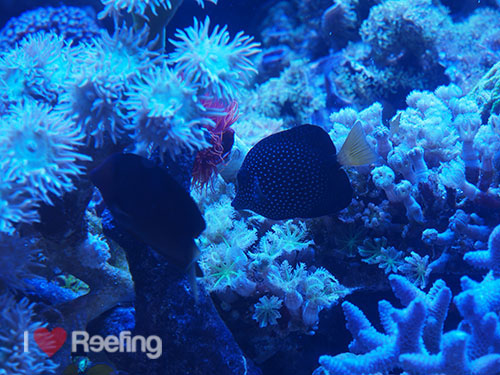 Prodibio 
Prodibio lured customers with a beautiful jellyfish tank – actually jellyfish could be seen quite frequently at this fair!
Grotech 
Grotech impressed us with a huge range of products.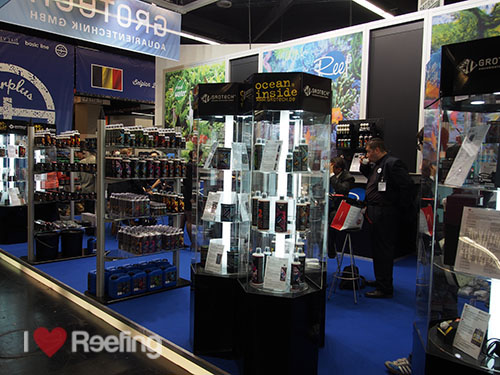 Korallenzucht
As we would expect from Korallenzucht they offered a show tank with extremely bright and nice colors. The pastel colours are very pretty to look at.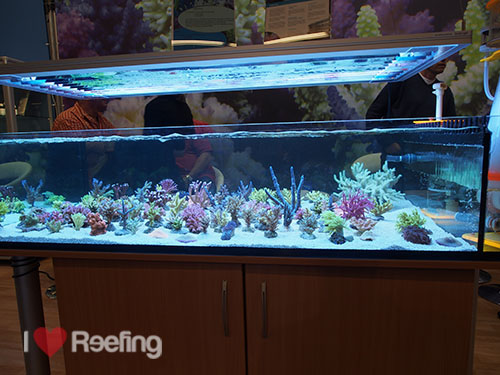 Amtra
The skimmers of Amtra appear let's say very technically.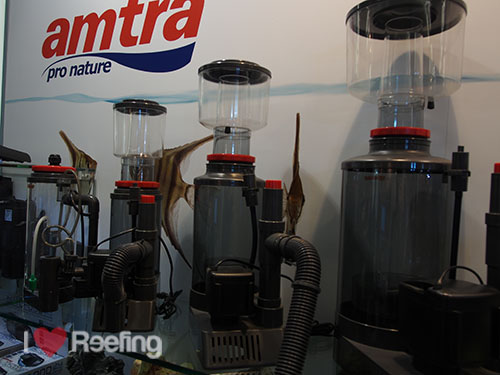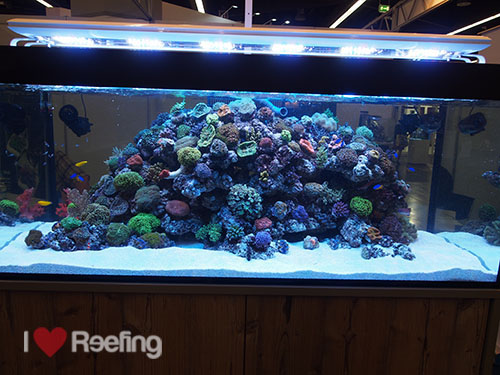 Maxspect offered futuristic LEDs that were insallted as a cluster above the tank.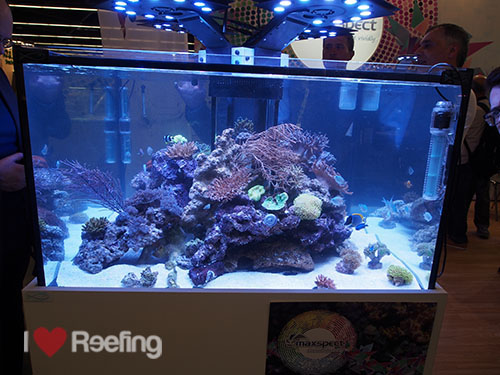 Blue Life
The fair also offers new or unknown companies. We were attracted by a media cartridge of Blue Life, which provides an easy way to use phosphate adsorber. An attached pump pumps the water with plenty of pressure through the tube and the adsorbent is flsuhed effectively. The phosphate adsorber is even able to regenerate, which I had never heard before.
Probably the most expensive exhibit was the massive water test machine by the company Thrive. It works like a fully automated water testing terminal in which you enter a sample of water, and it will automatically check it for many water parameters. The target group are dealers and large stores that can offer customers these automated tests. We are thrilled!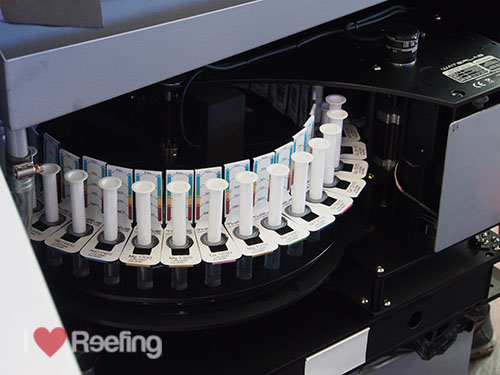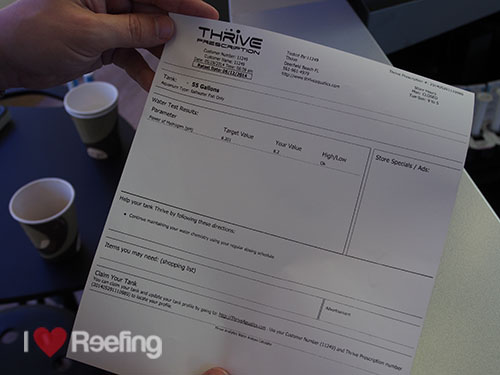 CaribSea
Another trend of the exhibition was the natural-looking reefrock – obviously the industry wants to be independent of real life rock. The stones shown here are from the company CaribSea and are made of argonit stone. The stones are covered with a reddish of living bacteria. This principle is already known of live sand and has now been transferred to reefrock. Generally, I like the attitude of the industry to look for alternatives to natural withdrawals.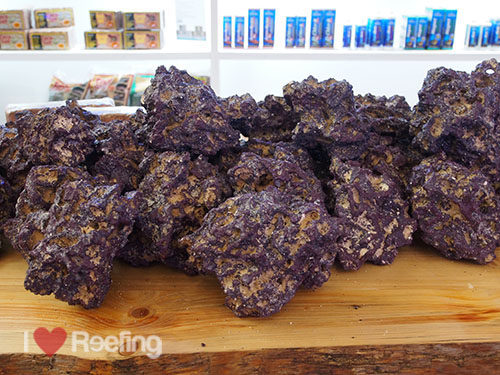 Arka 
Arka presented their completely overhauled dosing, which comes in a heavy metal case with a magnetic stirrer (the shown dosing pump was something like a prototype, because it will be sold with a glossy colour).
Klasse Idee aus Deutschland: 
Relaxing than cleaning! This is really a great idea. The lower rim of the pelvis movesupwards and downwards and cleans the glas completely automatically. We were very surprised by this nice idea.
Design from Greek
A real eye-catchers are these great designed pools.
Jabeo 
The favorable Jabeo pumps were presented at the Interzoo aswell.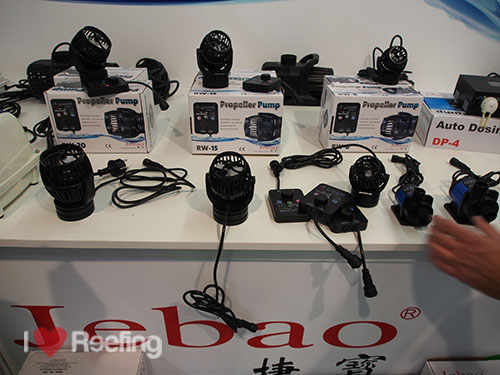 EHEIM
Auch Eheim zeigte einige Neuerungen. Ein handlicher Scheibenmagnet war ebenso dabei wie schick eingerichtete Meerwasserbecken. Die gezeigte LED ist über wie Unterwasser einsetzbar und hat ca. 16-24W. Sie wird mittels eines Magneten gesteuert. Diesen hält man an die Lampe und sie ändert das Spektrum langsam durch. Ist man bei der Lichtfarbe angekommen, für die man sich entschieden hat, nimmt man den Magnet weg und das Spektrum bleibt wie eingestellt. Sehr innovativ, diese Art der berührungslosen Steuerung, die auch unter Wasser ohne externen Controller auskommt.
The company Eheim also showed some innovations. The shown LED can be used above and eben under the water, it has about 16-24W. It can be controlled with a magnet. This is a great innovation.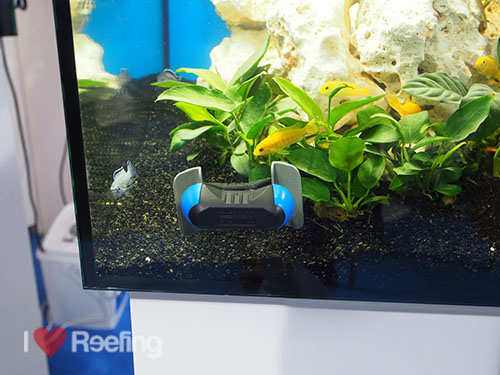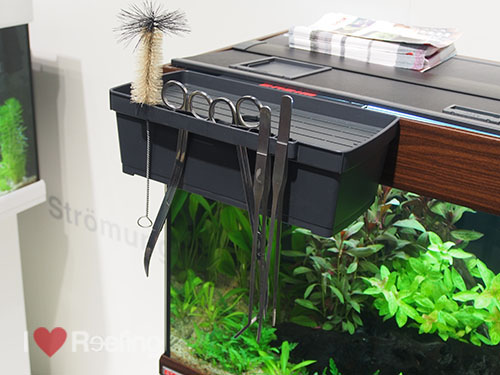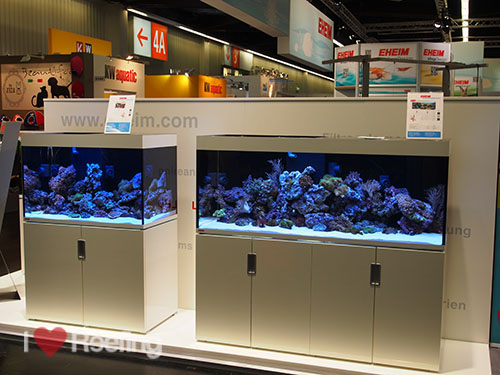 At the end of the report hree are some really nice furnished aquariums. I think these images may give you an impression how much effort and money is invested for only 4 days of exhibition by the manufacturers.
The tanky mostly looked very good.